Apex Receives Industry's Highest Safety and Health Achievement Award
The honor recognizes Apex's dedication and leadership throughout the industry.
Above all, Apex Clean Energy promotes a culture of safety. From our corporate offices to wind farms and dozens of projects under development across North America, safety is a core value that drives our operations.
At the 2018 Wind Project O&M and Safety Conference in San Diego, the American Wind Energy Association presented Apex with its highest level of safety recognition, the Safety and Health Achievement Gold Award. Apex was selected by a panel of peers from a pool of industry leaders, all of whom have demonstrated superior records of measurable safety performance.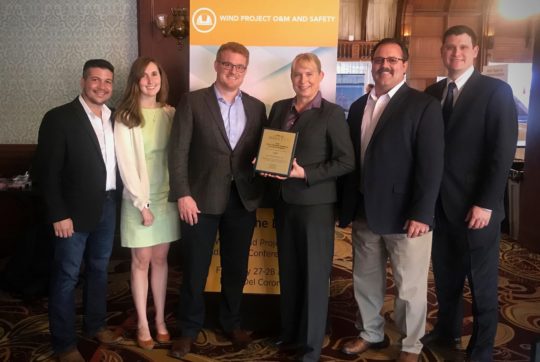 The award honors Apex's commitment to ensuring safety as an essential business principle and its leadership in promoting environmental, health, and safety advancement throughout the industry.
"Apex is a company with a mission-driven culture, and nowhere is that more apparent than when it comes to safety," says Mark Goodwin, president and CEO of Apex Clean Energy. "Our team is constantly assessing opportunities to improve the safety of all our employees, our contractors, and residents of the communities in which we work."
Within Apex, corporate safety policy guides big-picture strategic decisions and defines routine habits in the field. Apex's Executive Safety Committee establishes goals, seeks out industry-leading initiatives, and addresses opportunities for improvement, and the company's Risk Registry Committee identifies, evaluates, and creates initiatives to mitigate new hazards. Corporate guidelines and procedures are continually reevaluated and enhanced, with input from across the company and in the field.
"Apex is a company with a mission-driven culture, and nowhere is that more apparent than when it comes to safety."
"Trust, transparency and commitment to continuous improvement drive this effort," says John Boyle, manager of health and safety for Apex. "This adds up to a tactical mindset that starts with the first meetings of the morning and continues to taking safety home after work and in our communities. It's a team-focused approach that builds buy-in at all levels, which is the most important aspect of any safety program."
To learn more about the Apex safety culture, read about how we work to build relationships with local emergency responders at Kay Wind in Oklahoma.